The only constant in education is change. As education and curriculum evolves, the learning environment must adapt, as well. San Marcos Unified School District (SMUSD) had a goal to transform their oldest high school into a 21st-century campus—with new learning facilities for the students, staff and community—at San Marcos High School (SMHS).
After four years of design, planning and construction, the project was completed in August 2014. The community benefits from this project by having an up-to-date high school that:
Serves the educational needs of the students.
Supports academic, athletic and cultural events.
Provides a cornerstone for the educational focus of the community.
"The design team dedicated more than five years of passion to bring this project to fruition," said LPA Principal Wendy Rogers. "The result of this project incorporates exciting aspects of modern education and illustrates the promise of what can be achieved when an integrated design team works with an innovative client."
There were many lessons to be learned as designers brought new life to an outdated campus. Here are five concepts that were especially important in creating a 21st century school where students, staff and the community would thrive:
A Collaborative Planning Process
The planning phase for the reconstruction of the 422,000-square-foot, 3,000-student high school was a highly inclusive process. The San Marcos community, district members, Lusardi lease-leaseback contractors and LPA's integrated designers participated in meetings that varied from large presentations to informal workshops, charrettes and work sessions. A direct result of the collaborative planning process, San Marcos has a new, multi-story campus around a central quad that establishes a sense of community and maximizes the available site area for school programs and amenities.
Designing for Curriculum
The new campus design doubles classroom space by 50 percent. With the feel of a live-work setup, students have amenities such as the library reading center, student union, student store and career center on the ground floor with academic spaces are housed on the floors above.
The comprehensive high school is organized by discipline into small learning communities. LPA's K-12 schools design team took inspiration from these communities to create four main buildings on the campus:
The "L"-shaped academic building is a combination of three and four stories and contains a majority of the classroom space.
The single-story Academy building includes shop studios, computer labs and laboratory space for the agricultural program.
The Athletic Center has a three-court gym and multi-purpose weight room, dedicated dance/fitness studios and support space for athletics and PE.
The Performing Arts Center includes a 400-seat theatre, black box theatre and support as well as teaching stations for the visual arts, media arts, band and choral.
Environmental Graphics and Priming
Environmental signage is necessary to inform people how to navigate through a campus or building—a design technique known as wayfinding. While wayfinding is an important component, there are several additional benefits to environmental graphics, including influencing mood and behavior, increasing student engagement, reinforcing school spirit and pride and creating a culture of community—all while directing people to their destination.
There is a concept in psychology called "priming" that refers to how our unconscious mind is affected by sensory input such as words and color. In 1996 John Bargh studied the effects of priming. He found that people primed with words related to politeness waited nearly 10 minutes to interrupt a researcher, whereas people primed with words about rudeness waited half that time before interrupting. A neutral control group landed in between.
Environmental graphics, like those used at the high school, can be used to prime occupants and visitors through visual stimuli in the form of large-scale, digitally-printed vinyl wall coverings, dimensional letters, acrylic or metal plaque signage, etched images or words into concrete, or even the simple application of color. This sets the tone for the culture of the space.
Sustainability as Design Partner
Sustainability was viewed as a design partner in the development of the campus. SMHS displays a wide variety of sustainable design strategies aimed at providing healthy, efficient and productive environments for students and staff. The transformed school meets the healthy school standards of the Collaborative for High Performance Schools (CHPS) and the campus promotes student achievement with a healthier environment and saves on operating costs by including energy- and water-saving strategies and stormwater efficiencies that contain or scrub and water that may leave the school site.
Social Connections
Graphics of school logos, mascots, mottos and colors reinforce school spirit and pride, particularly around athletics facilities. Just as brand identity is important to businesses, a school's mascot and logo should be consistent and cohesive throughout sports uniforms, signage, gymnasium striping, directional signage and banners.
Cohesion and consistency strengthen the power and recognition throughout the school and larger community. Athletics are a large part of the students' school experiences and activities, increasing their involvement within school events, encouraging healthy social interaction and habits and creating fond memories for them to look back on and return as a supportive alumnus.
Ultimately, 21st-century schools and classrooms must support multiple learning modalities, emphasize flexibility and mobility and encourage collaboration. The Coalition for Adequate School Housing (CASH) and the American Institute of Architects California Council (AIACC) recently recognized the transformation of SMHS in the New Built category. Jurors said, "The architecture is a statement of how simple and straight-forward design can lead to extraordinary results. The building design creates an inviting campus setting similar to a college campus concept and raises the bar for educational design. The project is well conceived as a 21st century learning center that integrates quality education opportunities with sustainable design." As education evolves, the high school can too and that is something to celebrate.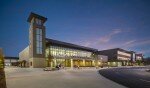 A version of this story originally appeared on Integrated Sustainable Design. Since joining LPA in 1994, Principal James R. Kisel has participated in the planning, programming and design of more than 100 public, educational and civic facilities. For the past 30 years he has assisted many of these entities with their master planning, site analysis, programming, schematic and design development package submittal needs.
Author – Jim Kisel, AIA, LEED AP and Principal at LPA
Photos – LPA Inc. / Costea Photography, Inc.